HFMA (Healthcare Financial Management Association) is a professional support organization in the United States healthcare industry. HFMA provide memberships to help professionals who are currently working in healthcare management to grow, network, and accelerate in their careers. 
1. Their main products are memberships, but product offerings are too complicated and poorly explained, creating a lot of unnecessary confusion for potential members (customers).
2. Most of their existing members are from the baby boomer generation and will be retiring soon. To keep the business sustainable, HFMA must sell more memberships by appealing to the younger generation of professionals who need to be mentored in their fresh careers.
We started by asking: what problems are we really trying to solve? It turns out that this was more than just a website redesign - it was actually a business model redesign! 
We interviewed HFMA members and asked them, in a nutshell:
What's good about HFMA?
What's bad about HFMA?
What would you change?
It turns out that these members love HFMA. They started with support from their employer, and they have been with HFMA for years. Their careers have strongly benefitted from having an HFMA membership and they developed strong ties to other members. The organization opens doors for leadership opportunities, provides industry knowledge and expertise, and has great quality and credibility. However, HFMA's quality content is difficult to find, and fees are high for members who are not supported by their employers so it's difficult to recruit new members. Also, there are separate fees for all types of certifications, courses, and services - which make it even harder to make sense of. 
This brings us to ask:
Are there ways we can help new members justify the cost by showing them a clearer ROI?
Is there a case for segmenting membership into levels or types?
We worked together with the strategy team to define a tiered product strategy that centred around the value proposition that the HFMA experience can be personalized for every HFMA member according to where they are in their careers. The three tiers are: the free member, the paid member, and the executive. The different tiers will each have their unique product offerings and associated business goals closely tied to the customer segment. It's time to make the memberships transparent and clear to the customer, avoid hidden fees, and educate professionals who are new to the industry the value of an HFMA membership.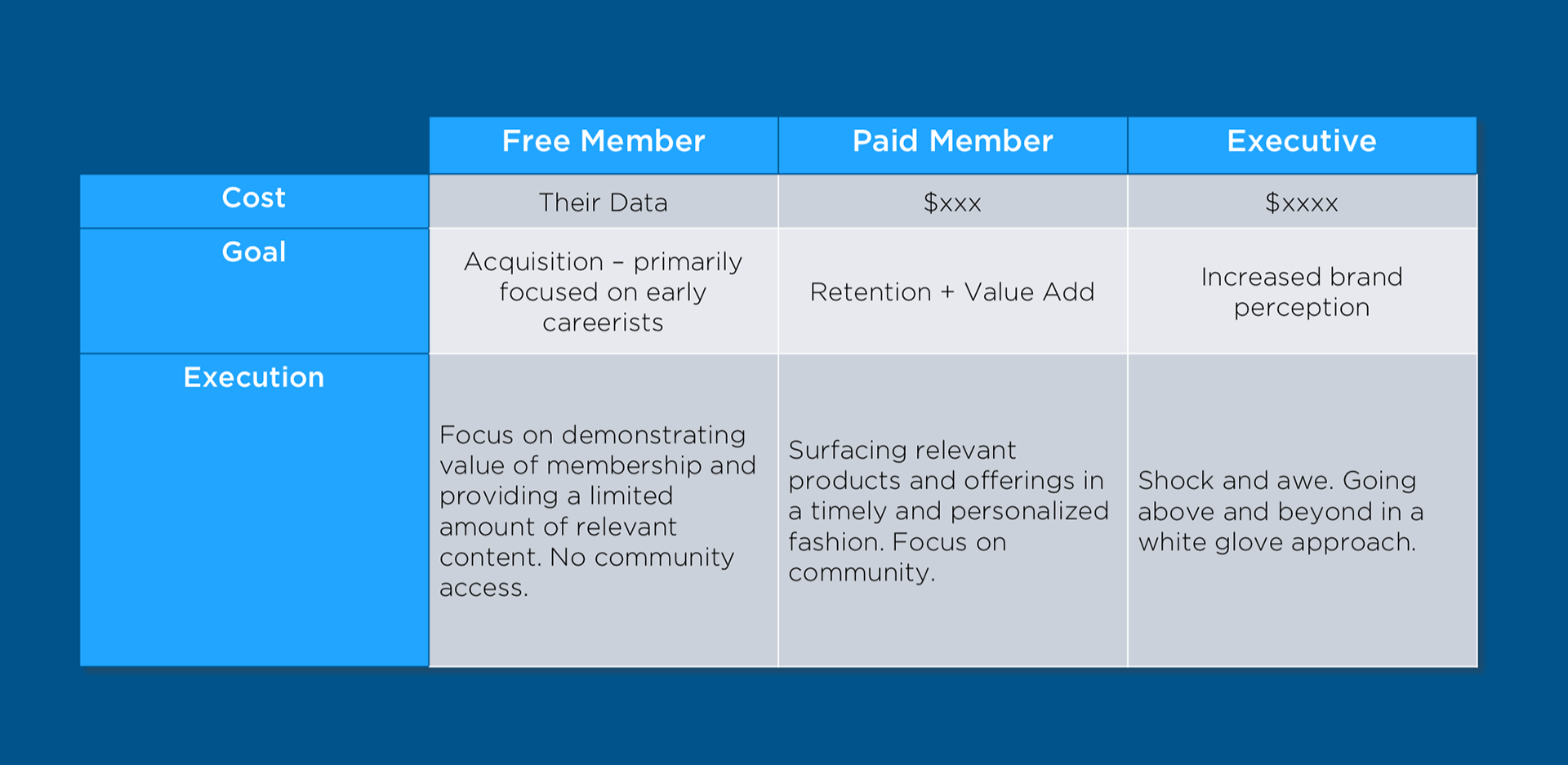 Since everybody that interacts with HFMA already needs to register and login, providing HFMA with data regarding their job, location, etc. We can then hone in, taking what we know to provide a frictionless personalized experience that also provides the organization flexibility to iterate over time.
At first, it seemed like a UX no-brainer for a product page. We looked at some tiered product charts that just compares all products, like many SAAS product pages already have done. 

We referenced some product pages and analyzed what worked well, what didn't, and which ideas might be beneficial for HFMA.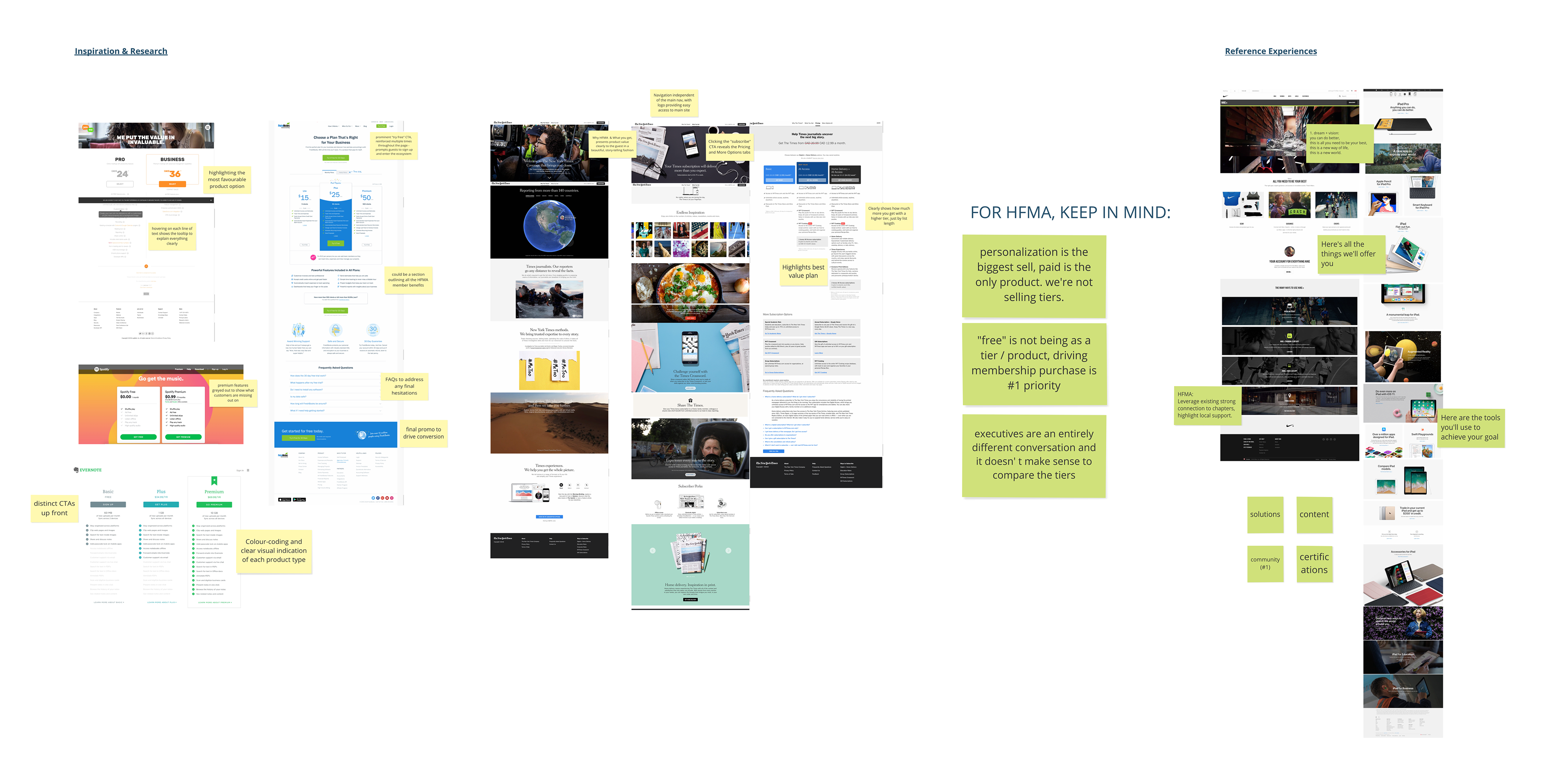 However, we realized that for HFMA, the "free" tier is not a "real tier" that the business wants to push forward - it's just the logged in state after they've registered a free online account. It's meant to be an incentive to draw potential members in by providing helpful content and services so they can stay in the loop. Once they realize the value add, they will be likely to purchase the membership. Also, the executive member is only for those who have very high qualifications in the industry, which is a separate conversation reserved only for a small number of people - so it didn't make sense to compare them.  There isn't a use case where someone will ever choose between a paid individual membership vs. an executive membership, hence a comparison table would not apply. With this in mind, we came up with a basic architecture for the membership product pages, and started coming up with sketches and iterations of what the shopping experience could look like.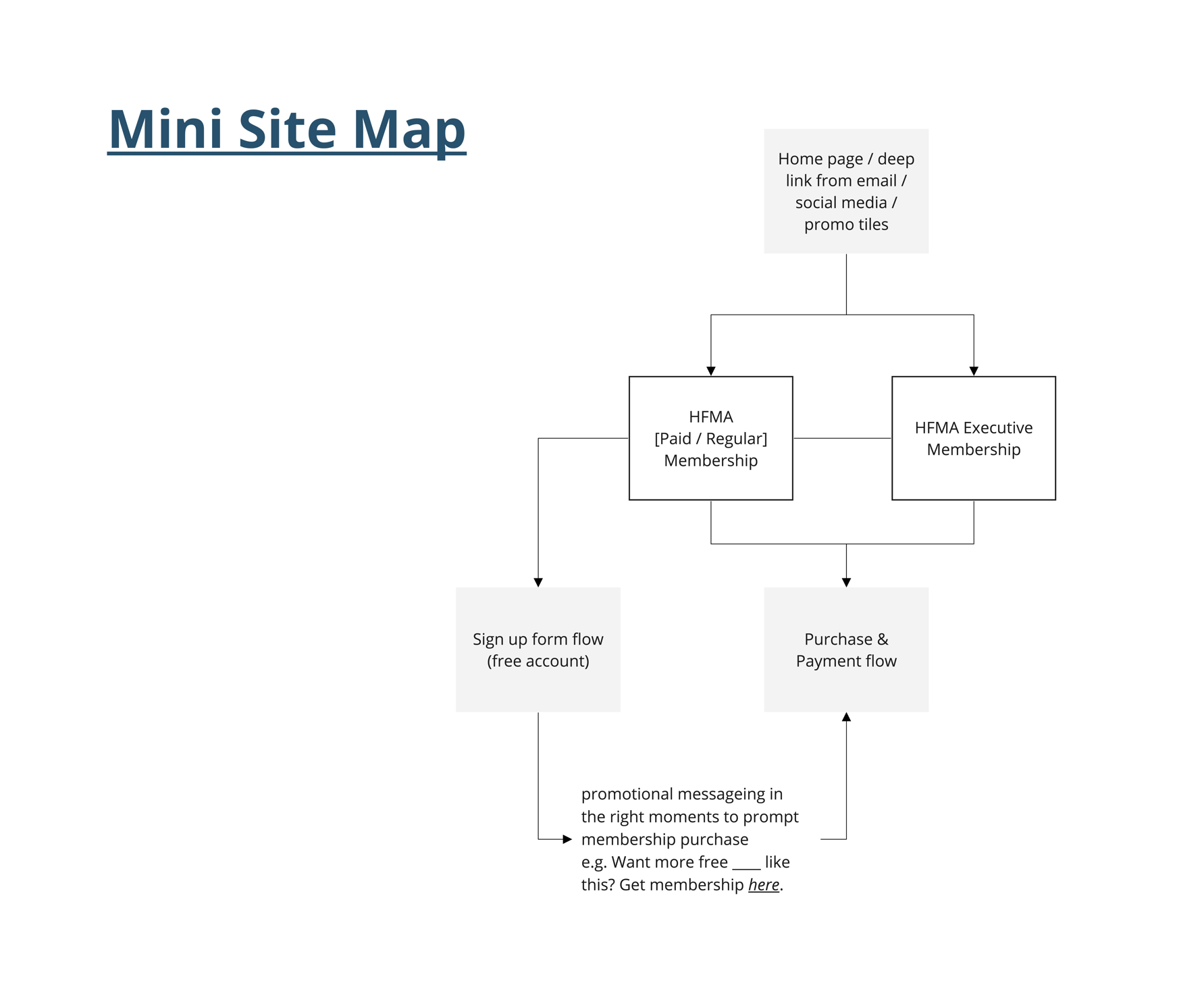 After rounds of feedback, we finalized the wireframes, and then proceeded to work with the visual designers to create high fidelity mockups. Ultimately, the pages were structured with the following strategy:
1. Navigation with a CTA that leads to the conversion flow, clearly showing that there were two types of membership available for purchase, and you see right away which category you fall into based on your career stage without any confusion.
2. Clear, concise, and targeted messaging in the hero to communicate the value of the membership you are currently looking at, and how much it costs up front - no hidden fees, no extra frills. 

3. Text content container that introduces HFMA, provides company & product positioning; trust establishment
4. Highlight for major points of ROI for the customer, followed by detailed membership benefits broken down in easy-to-digest sections.
5. Testimonials and reviews from other peers in the industry
6. Final product summary that succinctly lists all the things the customer will be getting in their membership purchase
7. Promo tile, the final conversion tool for inviting customers to join free and enter the HFMA ecosystem while clearly articulating what a free account means and includes (not to be confused with membership), with a CTA redirecting to free account sign up flow.